Relevant Yield API Insights enables multiple SSPs and Adservers' monitoring and reporting in one interface. The system provides a detailed, easily customisable view to all sales channels. It makes follow-up, reporting and revenue optimisation much easier and saves publishers time for more productive work.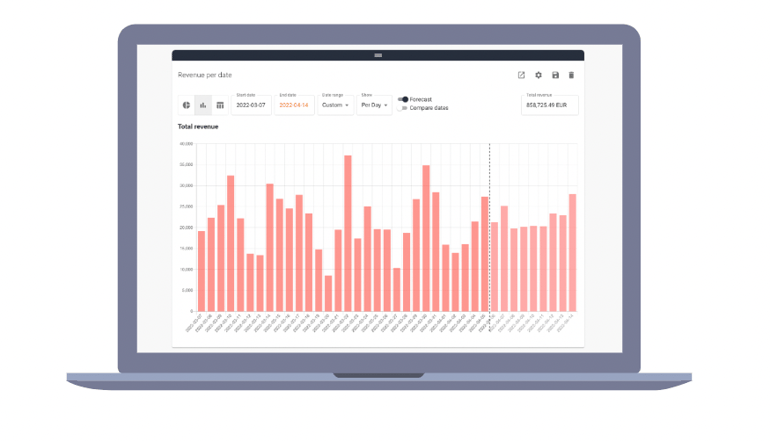 ➡️
Empower a smarter sales team
- customised dashboards enable individual members of your sales team to identify which inventory an advertiser is pursuing, via which channels.
- enable your sales team to focus on advertisers with spend spikes on the open exchanges and support pursuit of premium deals.
➡️
Grow revenue through data-driven optimisation
- complex data from multiple sources, surfaced in a simple way.
- SSP, vendor and placement level performance insights to enable easy optimisation.
You can expect to see typical revenue uplift of 10-30%
➡️
Benefit from Significant Cost Savings
- programmatic reporting; from individual deal reports & weekly revenue updates to network management, your ops team will save significant time that can be applied to actual revenue-impacting activities such as optimisations.
- financial reporting / reconciliation – streamline time spent on monthly reporting from 2 days to 2 hours.
- customisation - get the benefits of customised dashboarding, without investing dev time in house; apply your development resources to other revenue-driving projects.
➡️
Reduce lost revenue with Performance monitoring
- monitor sales in real-time and get alerts if something goes wrong.
- avoid lost revenue going undetected.
Read more about use cases for digital ad sales teams - here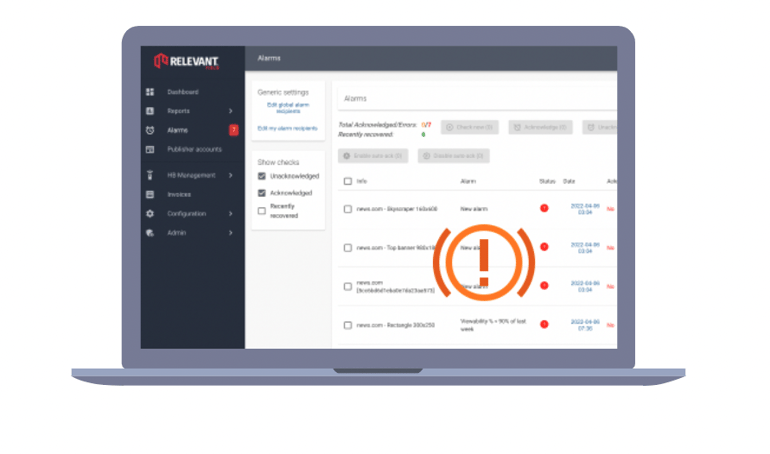 Protect your digital advertising revenues with Relevant Yield alarms - read more here.
User comments:
It has removed many operational tasks, such as collecting reports from different SSPs and manually compounding the data (like mapping brands etc.)
We spend much less time on all kinds of programmatic sales analytics, reporting, and invoicing.
Basically, it's a huge timesaver for us, both in our ad operations team and for sales. It has also given us new insights that we haven't had before, eg by industry. We work with 6 different SSPs and running reports in each of them and then merging the reports is very time-consuming, Relevant Yield solves that for us.
It is so timesaving and it is fully independent from internal resources.

Saves tremendous amount of hours and gives an instant control of performance. The Analytics helps to drive sales and to focus on KPI´s.

Easy overview, and possibility to really deep-dive into better optimisation options.

You have built an amazing tool.
More centralised reporting - a good platform to provide partners easy access to data

Essential tool if you have a bit more complicated set-up.
Essential way of keeping a track on header and to speed up decision making.

It is totally different to keep a track on how the sales is going on, when you can check how we succeeded in the previous day from one spot first thing in the morning! Now that we have used this already for a long time, you can spot peaks of sales and you can be prepared for them in advance. And you can also see the difficult spots into which you could put extra effort on. All in all, more information is not only adding the pain but also improving the doing and the results!

Nice datapoints.

It is a very clever tool - once the set-up is done.

Very good and clear user interface.

Easy to use, reliability, you get help to problem situations quickly. You (at Relevant) listen to ideas for development and not only listen but also take a grasp on them!

Great for a quick overview of revenue.





API Insights explained in 2mins video:
Features
Automated reporting on SSP and Adserver level; broken down per site and placement

Metric analysis & reporting: eCPM, fill-rate, sold impressions, revenue, viewability%

Cross-SSP Advertiser analytics & mappings

Open, Deals and direct sales reporting

Custom dashboards and permissions per user

Optimisation dashboards for multiple SSP and cross-SSP statistics

Invoice and Statement generation

Sales Forecasting Dashboard

HB Analytics

and

HB Manager

for more advanced use.




Integrations
We connect with Adservers, SSPs and other sales sources primarily through API integrations. If we cannot get API access we can also work with scheduled reports.

We already support the most common SSPs and Adservers, but we are constantly adding new support. It does not matter if it is Display, Mobile, Native, Video or something else: if there is a way to get the core data, we will build an integration.

If there is a connection not listed here, we are happy to build support for it during the Onboarding phase, and it is usually not something we charge extra for.
Supported SSPs: Adform, Admanager/Adx, Appnexus, Criteo, DistrictM, Freewheel, Improve Digital, Index Exchange, JustPremium, OpenX, Pubmatic, RTB+, Rubicon, WideSpace, Yieldlab, Outbrain, Teads, Amazon, Dailymotion, Synacore Media, Adagio, Sovrn, Rich Audience, AniView. Triplelift, Yahoo, NextMillenium + Many more!
Supported Adservers: Adform, Admanager, Adnuntius, Appnexus, Smart + Many more!
Customers experiences

"The use of Relevant Yield has enabled us to manage our programmatic sales channels more efficiently as we have a clear overview in one place of what takes place in various SSPs. It has also freed up a lot of our team's time from manual reporting that we have been able to allocate to optimising yield which has translated into improved earnings for us and enables us to share more real-time view of customers' programmatic spends with our sales managers."
- Saku Sahramies, Product Development online&linear, MTV Oy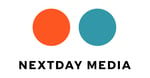 "With the API Insight reporting we can handle each individual website's reporting with accuracy, and our publishers can login and see their own performance through the Relevant Yield interface. This helps us maintain a larger number of websites with less resources and faster/better reporting accuracy - creating a better product for our clients."
- Vincent Batelaan, Head of Inventory, Next day media
Ready to Grow your Ad Revenue and save time?
The best way to understand the value of Relevant Yield for your company is to see how it works in action. In the 30min consultation, we'll tell how you will benefit from using it 🔥