Would you like to be our new regional partner?
We are constantly looking for regional representatives around the world.
You can be either a person or a company, with customers to whom you could give value by adding Relevant Yield to your portfolio. We expect you to have a good knowledge of the market as well as good relationships with publishers and networks in your area.

For example, you can be an agency that provides services, consulting, or technologies to publishers or networks, or an independent consultant.
Help your customers succeed
With Relevant Yield you can help your customers to get a holistic overview of all their ad sales sources. It will make reporting, monitoring, optimisation, and management of programmatic partners and techniques easy for them. With Relevant Yield your customers will save time, resources and grow their business.

The success of your customers is your success too and with Relevant Yield you can take it to a whole new level.
We have two different partnership programs: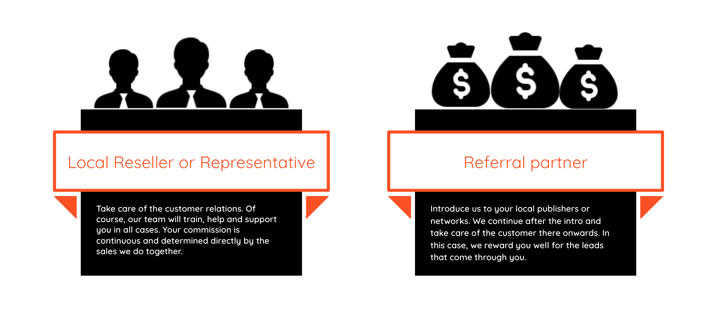 As a reseller or local representative you will take care of the customer relations. Of course, our team will train, help and support you in all cases. Your commission is continuous and determined directly by the sales we do together.

As a referral partner you introduce us to your local publishers or networks. We continue after the intro and take care of the customer there onwards. In this case, we reward you well for the leads that come through you.
We offer:
An unique product

The support of a knowledgeable team

Good earning potential

Two different partnership programs
Relevant Yield is a solution provided by Relevant Digital. The guiding values ​​of our work are expertise, trustworthy and curiosity. As a partner, we expect similar values from you.
As a developer of Relevant Yield, we are proud and we aim for the highest customer satisfaction. And with that even greater future success. As a partner you can succeed together with us.
How can you apply to our partner programs?
Fill in the form below for more information about your options. Or contact directly our Partner Director:
Kimmo Vihanto
kimmo.vihanto(a)relevant-digital.com
+358 50 550 3661.